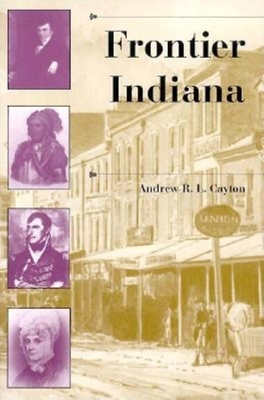 Frontier Indiana (History of the Trans-Appalachian Frontier) (Paperback)
Indiana University Press, 9780253212177, 360pp.
Publication Date: August 22, 1998
* Individual store prices may vary.
Description
Frontier Indiana
Andrew R. L. Cayton
"The research and scholarship that went into the work are excellent; so good, in fact, that the book should be on the required text list for all Transappalachian frontier courses." --History
Cayton's lively new history of the frontier period in Indiana puts the focus on people, on how they lived, how they viewed their world, and what motivated them. Here are the stories of Sieur de Vincennes, John Francis Hamtramck, Little Turtle, Anna Tuthill Symmes Harrison, Tenskwatawa, Calvin Fletcher--along with many more familiar (and not so familiar) early Hoosiers.
Sales territory is worldwide
A History of the Trans-Appalachian Frontier
1996; 360 pages, 20 b&w photos, 2 maps, index, 6 x 9
cloth 0-253-33048-3 $39.95 L / 28.50
paper 0-253-21217-0 $18.95 t / 13.50
About the Author
Andrew R. L. Cayton is Professor of History at Miami University in Oxford, Ohio. He is author of The Frontier Republic: Ideology and Politics in Ohio Country, 1780-1825 and, with Peter S. Onuf, The Midwest and the Nation: Rethinking the History of an American Region.