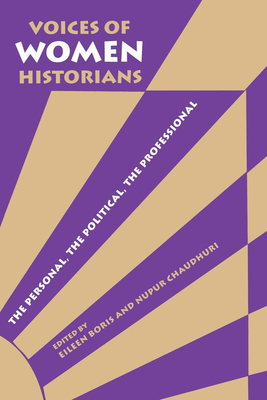 Voices of Women Historians (Paperback)
The Personal, the Political, the Professional
Indiana University Press, 9780253212757, 320pp.
Publication Date: September 22, 1999
* Individual store prices may vary.
Description
This collection of personal narratives by former officers of the Coordinating Council for Women in History weaves together past and present in women's history, and women in the historical profession. Recording the diverse paths taken to become historians, essays describe how a group of women negotiated the often competing demands of being a woman, a professional, and a political activist during the turbulent 1960s through the challenges of the 1990s.
About the Author
Eileen Boris, Professor of Women's Studies at the University of Virginia and coordinating editor of IRIS: A Journal of Women, is the author of Art and Labor: Ruskin, Morris, and the Craftsman Ideal in America, and Home to Work: Motherhood and the Politics of Industrial Homework in the United States. She also has published numerous articles, essays and reviews in American Quarterly, Signs, Journal of American History, Women's Review of Books, and The Nation.Nupur Chaudhuri, who teaches at Texas Southern University, is the coeditor of Westerm Women and Imperialism: Complicity and Resistance, and coeditor of a special issue on "Gender, Race, Class, Sexuality: National and Global Perspectives" for the National Women's Studies Journal. She has written extensively on gender and imperialism and her articles have appeared in the Journal of Women's History, Women's History Review, and Victorian Studies.