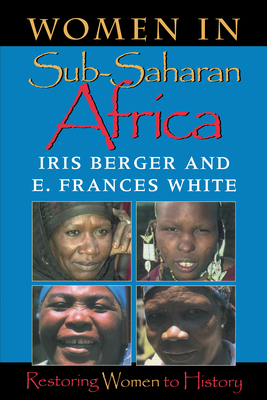 Women in Sub-Saharan Africa (Paperback)
Restoring Women to History
Indiana University Press, 9780253213099, 232pp.
Publication Date: June 22, 1999
* Individual store prices may vary.
Description
"These four volumes in this major series . . . provide a single-source reference to the status of the field of women's history and to ways that the field can be expanded. . . . A basic set for all academic libraries." --Library Journal Academic Newswire
Berger and White focus on Sub-Saharan Africa, tracing women's history from earliest times to the present. By exploring their place in social, economic, political, and religious life, the authors highlight the changing societal position of women through shifts over time in ideas about gender and the connections between women's public and private spheres.
About the Author
Iris Berger is Professor of History, Africana studies, and women's studiesat the University at Albany, State University of New York. She is alsopast director of the Institute for Research on women and recentlycompleted a term as president of the African Studies Association. She isauthor of Threads of Solidarity: Women in South African Industry, 1900-1980 and Religion and Resistance: East African Kingdoms in thePrecolonial Period, and co-editor of Women and Class in Africa.E. Frances White is Professor and Dean of the Gallatin School ofIndividualized Study at New York University. She writes on African women'shistory and feminist theory. Her publications include Sierra Leone'sSettler Women Traders: Women on the Afro-European Frontier and Africa onMy Mind: Gender, Counter Discourse and African American Nationalism.