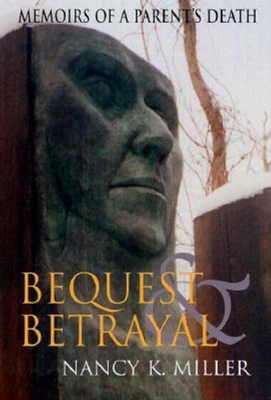 Bequest and Betrayal
Memoirs of a Parent's Death
Paperback

* Individual store prices may vary.
Description
In a book that will change the ways we think about autobiography and criticism, Nancy K. Miller produces poignant revelations about what it means to live with a dying parent--as a son or daughter, as well as the difference that gender makes in such a painful situation. In Bequest and Betrayal, she develops an original feminist perspective by counterpointing lyrical introspection about her own grief with critical insights into memoirs by Simone de Beauvoir, Philip Roth, Art Spiegelman, Susan Cheever, Carolyn Steedman, and Annie Ernaux. --Sandra M. Gilbert and Susan Gubar, co-authors of The Madwoman in the Attic, No Man's Land, and The Norton Anthology of Literature by Women
Miller's use of the memoir form offers a new model of serious criticism, and a way of imagining community through 'bonds of paper' as well as 'bonds of blood.' --Elaine Showalter, London Review of Books
Melding the details of her own experience with the familial biographies of well-known contemporary writers, Miller recreates a common experience--the loss of a father or a mother--and exposes the often tortuous paths of mourning and attachment that we follow in the wake of loss. In the process, she offers pieces of personal history, revealing the mixed emotions provoked by her mother's sudden death from cancer and her father's painful struggle with Parkinson's disease. Memoirs about the loss of parents show how enmeshed in the family plot we have been and the price of our complicity in its stories. The death of parents forces us to rethink our lives, to reread ourselves. We read for what we need to find. Sometimes, we also find what we didn't know we needed.
Indiana University Press, 9780253213792, 208pp.
Publication Date: January 22, 2000
About the Author
Nancy K. Miller is Distinguished Professor of English and Comparative Literature at the City University of New York. She is author of Getting Personal and Subject to Change.