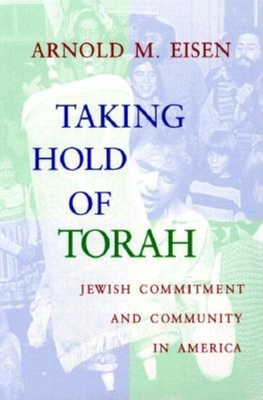 Taking Hold of Torah (Paperback)
Jewish Commitment and Community in America (Helen and Martin Schwartz Lectures in Jewish Studies)
Indiana University Press, 9780253213815, 208pp.
Publication Date: January 22, 2000
* Individual store prices may vary.
Description
Now in paperback
Taking Hold of Torah
Jewish Commitment and Community in America
Arnold M. Eisen
A personal meditation on the meaning of Judaism today and a vision for revitalizing Jewish community and tradition in America.
Arnold M. Eisen offers a personal plea for--and a vision of--the revitalizing of American Judaism through a renewed relationship to Jewish tradition and the strengthening of Jewish communities." --Jewish Book News
...required reading for Jewish communal professionals, Taking Hold of Torah] spells out the discontents and dreams of the baby boomers and their children who are reinventing Jewish communal life for the modern world." --Jewish Exponent
Melding autobiography with biblical exegesis, philosophical speculation and a program for Jewish educational reform, the book is an unbuttoned riff on what's ailing modern Jews." --Forward
...a personal story of a modern Jew trying to make sense of Judaism in a time when Jews can choose whether and how to be Jewish...." --The Jewish Advocate
Jews, like other Americans, have both benefitted and suffered from the fraying of traditional loyalties that has come to characterize modern American culture. In each of the five chapters, Arnold M. Eisen examines a major issue or theme related to his vision for the renewal of Jewish communities--in terms of one of the five books of the Torah. What is the meaning and purpose of Jewish tradition? What is the significance of faith and covenant? What are the contemporary uses of ritual? What should a new agenda for politics in American Jewish life include? What legacy is to be left to future generations? This encouraging work is essential reading for anyone concerned with questions of Jewish faith and the future of Judaism in America.
Arnold M. Eisen is Professor and Chair of Religious Studies at Stanford University, a frequent speaker on issues related to contemporary Jewish life before lay and scholarly audiences through.