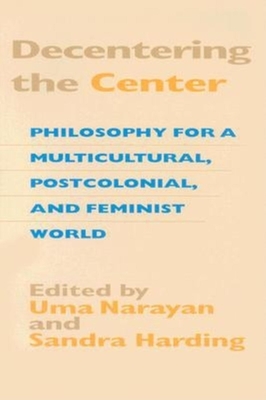 Decentering the Center (Paperback)
Philosophy for a Multicultural, Postcolonial, and Feminist World (Hypatia Book)
Indiana University Press, 9780253213846, 352pp.
Publication Date: March 22, 2000
* Individual store prices may vary.
Description
The essays in this volume bring to their focuses on philosophical issues the new angles of vision created by the multicultural, global, and postcolonial feminisms that have been developing around us. These multicultural, global, and postcolonial feminist concerns transform mainstream notions of experience, human rights, the origins of philosophic issues, philosophic uses of metaphors of the family, white antiracism, human progress, scientific progress, modernity, the unity of scientific method, the desirability of universal knowledge claims, and other ideas central to philosophy.
About the Author
Uma Narayan is associate professor of philosophy at Vassar College. She is the author of Dislocating Cultures: Identities, Traditions and Third World Feminism and co-editor, with Mary Lyndon Shanley of Reconstructing Political Theory: Feminist Perspectives.Sandra Harding is professor of education and women's studies at the University of California Los angeles. She is the editor of The "Racial" Economy of Science: Toward a Democratic Future, and the co-author of a chapter in UNESCO's World Science Report 1996 entitled Science and Technology: The Gender Dimension. Her most recent book is Is Science Multicultural? Postcolonialisms, Feminisms, and Epistemologies.