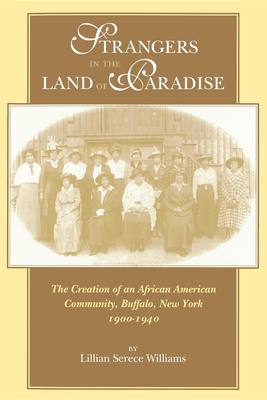 Strangers in the Land of Paradise (Paperback)
The Creation of an African American Community, Buffalo, New York, 1900-1940 (Blacks in the Diaspora)
Indiana University Press, 9780253214089, 273pp.
Publication Date: July 22, 2000
* Individual store prices may vary.
Description
... will make a splendid contribution to the fields of African-American and American urban, social and family history.... expanding the tradition that is now well underway of refuting the pathological emphasis of the prevailing ghetto studies of the 1960s and '70s."
--Joe W. Trotter
Strangers in the Land of Paradise examines the creation of an African American community as a distinct cultural entity. It delineates values and institutions that the black migrant population brought with it from the South, as well as those that evolved as a result of their interaction with blacks native to the city and the city itself. Through an examination of work, family, community organizations, and political actions, Lillian Williams explores the process by which the migrants adapted to their new environment.
The lives of African Americans in Buffalo from 1900-1940 reveal much about race, class, and gender in the development of urban communities. Black migrant workers transformed the landscape by their mere presence, but for the most part they could not rise beyond the lowest entry level positions. For African American women the occupational structure was even more restricted, however eventually both men and women increased their earning power and that--over time--improved their lives and that of their loved ones.
Migration also made more visible the class differences in the African American community. With the movement of the black Southerners to Buffalo, African Americans experienced greater restrictions on their freedom. This became a source of friction because "old" black Buffalo families often perceived the newcomers and their "country ways" to be the cause of these indignities. Nevertheless, racial solidarity and common needs soon smoothed over these differences. Despite upheavals arising from in-migration, and an increase in both racial prejudice and social problems, the black migrant population brought with it from the South the strength and vitality w.
About the Author
Lillian Serece Williams is Chair of African American Studies at the University of Buffalo, State University of New York.