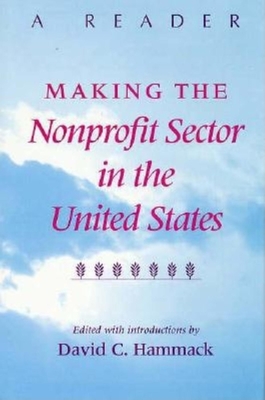 Making the Nonprofit Sector in the United States (Paperback)
A Reader (Philanthropic and Nonprofit Studies)
Indiana University Press, 9780253214102, 504pp.
Publication Date: June 22, 2000
* Individual store prices may vary.
Description
It is a delight to seen an anthology on nonprofit history done so well."--Barry Karl, John F. Kennedy School of Government, Harvard University
This is a volume that everyone concerned about nonprofits--scholar, practitioner, and citizen--will find useful and illuminating."--Peter Dobkin Hall, Program on Non-Profit Organizations
Yale Divinity School
A remarkable book."--Robert Putnam, John F. Kennedy School of Government, Harvard University
One to come from John Simon, School of Law, Yale University by Jan. 13th and others are being solicited.]
Unique among nations, America conducts almost all of its formally organized religious activity, and many cultural, arts, human service, educational, and research activities through private nonprofit organizations. Though partially funded by government, as well as by fees and donations, American nonprofits have pursued their missions with considerable independence. Many have amassed remarkable resources and acquired some of the most impressive hospital, university, performing arts, and museum facilities in the world. While some have amassed large endowments, many that surpass one billion dollars, there are also hundreds of thousands of small nonprofits, most with no tangible resources at all.
How did the United States come to rely so heavily on nonprofits? Why has it continued to do so? What purposes do Americans seek to advance through nonprofits? How have Americans sought to control them? How have nonprofits been effected by the growth of government in the twentieth century? These questions suggest the complexity of the history of nonprofits in the United States. To help explore that history, this reader presents some of the classic documents in the development of the nonprofit sector along with important interpretations by recent scholars. The selections can be considered a representative part of a single extended conversation by the men and women who have taken part in the effort to defin.
About the Author
DAVID C. HAMMACK is Hiram C. Haydn Professor of History and Chair of the Committee on Educational Programs of the Mandel Center for Nonprofit Organizations at Case Western Reserve University. Previously he taught in the City University of New York and at Princeton University. Hammack has held a Guggenheim Fellowship and was a Resident Fellow at the Russell Sage Foundation. His research has also been supported by grants from the American Council of Learned Societies and the Aspen Institute Nonprofit Sector Research Fund. He is the author of Power and Society: Greater New York at the Turn of the Century and Social Science in the Making: Essays on the Russell Sage Foundation, 1907-1972, and editor with Dennis Young, of Nonprofit Organizations in Market Economy.