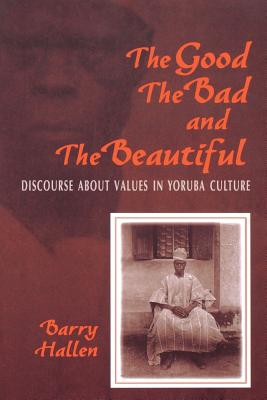 Good, the Bad, and the Beautiful (Paperback)
Discourse about Values in Yoruba Culture
Indiana University Press, 9780253214164, 224pp.
Publication Date: December 22, 2000
* Individual store prices may vary.
Description
The Good, the Bad, and the Beautiful
Discourse about Values in Yoruba Culture
Barry Hallen
Reveals everyday language as the key to understanding morals and ethics in Yoruba culture.
This contrasts with any suggestion that in Yoruba or, more generally, African society, moral thinking manifests nothing much more than a supine acquiescence in long established communal values.... Hallen renders a great service to African philosophy." --Kwasi Wiredu
In Yoruba culture, morality and moral values are intimately linked to aesthetics. The purest expression of beauty, at least for human beings, is to possess good moral character. But how is moral character judged? How do actions, and especially words, reveal good moral character in a culture that is still significantly based on oral tradition? In this original and intimate look at Yoruba culture, Barry Hallen asks the Yoruba onisegun--the wisest and most accomplished herbalists or traditional healers, individuals justly reputed to be well versed in Yoruba thought and expression--what it means to be good and beautiful. Posed as an outsider wanting to gain understanding of how to speak Yoruba correctly, Hallen engages the onisegun and has them explain the subtleties and intricacies of Yoruba language use and the philosophy behind particular word choices. Their instructions reveal a striking and profound depiction of Yoruba aesthetic and ethical thought. The detailed interpretations of everyday language that Hallen supplies challenge prevailing Western views that African thought is nothing more than acquiescence to long-established religious or communal values. The philosophy of ordinary language reveals that moral reflection is indeed individual and that evaluations of action and character take place on the basis of clearly and logically delineated criteria. With the onisegun as his guides, Hallen identifies the priorities of Yoruba philosophy and culture through everyday expression and shows that there a.
About the Author
Barry Hallen has taught philosophy at the University of Ile-Ife in Nigeria. He is a Fellow at the W. E. B. DuBois Institute for Afro-American Research at Harvard University and Visiting Professor of Philosophy at Morehouse College. He is co-author (with J. Olubi Sodipo) of Knowledge, Belief, and Witchcraft: Analytic Experiments in African Philosophy.