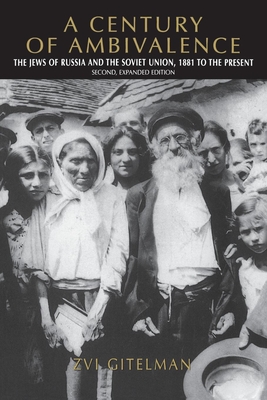 A Century of Ambivalence, Second Expanded Edition (Paperback)
The Jews of Russia and the Soviet Union, 1881 to the Present
Indiana University Press, 9780253214188, 320pp.
Publication Date: April 22, 2001
* Individual store prices may vary.
Description
Now back in print in a new edition
A Century of Ambivalence
The Jews of Russia and the Soviet Union, 1881 to the Present
Second, Expanded Edition
Zvi Gitelman
A richly illustrated survey of the Jewish historical experience in the Russian Empire, the Soviet Union, and the post-Soviet era.
Anyone with even a passing interest in the history of Russian Jewry will want to own this splendid... book." --Janet Hadda, Los Angeles Times
... a badly needed historical perspective on Soviet Jewry.... Gitelman] is evenhanded in his treatment of various periods and themes, as well as in his overall evaluation of the Soviet Jewish experience.... A Century of Ambivalence is illuminated by an extraordinary collection of photographs that vividly reflect the hopes, triumphs and agonies of Russian Jewish life." --David E. Fishman, Hadassah Magazine
Wonderful pictures of famous personalities, unknown villagers, small hamlets, markets and communal structures combine with the text to create an uplifting book] for a broad and general audience." --Alexander Orbach, Slavic Review
Gitelman's text provides an important commentary and careful historic explanation.... His portrayal of the promise and disillusionment, hope and despair, intellectual restlessness succeeded by swift repression enlarges the reader's understanding of the dynamic forces behind some of the most important movements in contemporary Jewish life." --Jane S. Gerber, Bergen Jewish News
... a lucid and reasonably objective popular history that expertly threads its way through the dizzying reversals of the Russian Jewish experience." --Village Voice
A century ago the Russian Empire contained the largest Jewish community in the world, numbering about five million people. Today, the Jewish population of the former Soviet Union has dwindled to half a million, but remains probably the world's third largest Jewish community. In the intervening century the Jews of that area have.
About the Author
Zvi Gitelman is Professor of Political Science, Preston R. Tisch Professor of Judaic Studies, and Director of the Jean and Samuel Frankel Center for Judaic Studies at the University of Michigan. He is author of, among other works, Jewish Nationality and Soviet Politics: The Jewish Sections of the CPSU, 1917-1930 and editor of Bitter Legacy: Confronting the Holocaust in the USSR (Indiana University Press).