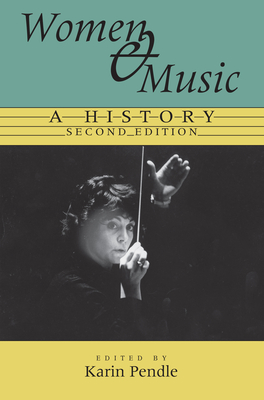 Women and Music (Paperback)
A History
Indiana University Press, 9780253214225, 530pp.
Publication Date: April 22, 2001
Other Editions of This Title:
Hardcover (6/1/2010)
Paperback (2/27/2015)
* Individual store prices may vary.
Description
This updated, expanded, and reorganized edition of Women and Music features even more women composers, performers, and patrons, even more musical contexts, and an expanded view of women in music outside Europe and North America. A popular university textbook, Women and Music is enlightening for scholars, a good source of programming ideas for performers, and a pleasure for other music lovers
About the Author
Adrienne Fried Block is a musicologist who has long specialized in music by American women. She is author of Amy Beach, Passionate Victorian: The Life and Work of an American Composer. Michael J. Budds is a musicologist on the faculty of the University of Missouri, Columbia. He is author of Jazz in the Sixties: The Expansion of Musical Resources and Techniques. Marcia Citron, Professor of Musicology at Rice University, is author of the award-winning volume Gender and the Musical Canon and two other books on women in music, Letters of Fanny Hensel to Felix Mendelssohn and Cecile Chaminade: A Bio-bibliography. She also works on operas on film and has written Opera on the Screen. J. Michele Edwards, conductor and musicologist, is Professor of Music and also teaches in the Women's and Gender Studies Program at Macalester College, St. Paul, Minnesota. Recent projects include a recording of Marta Ptaszynska's Holocaust Memorial Cantata, essays about Julia Perry and Frederique Petrides, articles for the Revised New Grove Dictionary of Music and Musicians, and presentations about Japanese women composers. She is currently preparing a book about Ruth Crawford Seeger's String Quartet (1931). S. Kay Hoke chairs the Division of Fine Arts at Brevard College in the mountains of North Carolina. Currently she serves as a national workshop leader for Music! World! Opera!, a program sponsored by Opera America, and is writing a book on Douglas Moore's opera The Ballad of Baby Doe. Barbara Garvey Jackson is a professional violinist and Professor Emerita of Music at the University of Arkansas. She is founder and publisher of Clar-Nan Editions, a firm specializing in music by women of the seventeenth and eighteenth centuries. The late L. JaFran Jones, an ethnomusicologist, was head of the music department at the University of Toledo, Ohio.