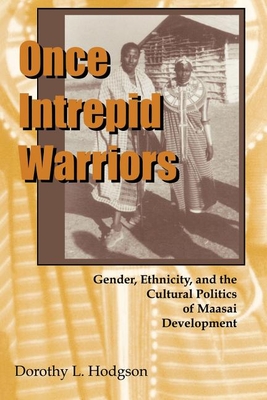 Once Intrepid Warriors (Paperback)
Gender, Ethnicity, and the Cultural Politics of Maasai Development
Indiana University Press, 9780253214515, 352pp.
Publication Date: April 6, 2004
Other Editions of This Title:
Hardcover (7/1/2001)
* Individual store prices may vary.
Description
Once Intrepid Warriors
Gender, Ethnicity, and the Cultural Politics of Maasai Development
Dorothy L. Hodgson
How the experience and legacy of development have shaped Maasai identities today.
Hodgson presents us with a complex, interactive picture of change over time, one dominated neither by the Maasai nor the state and development apparatus.... The Maasai emerge not simply as the 'intrepid warriors' envisioned by government and development officials, or even sometimes by themselves, but as active agents in the construction of their own history. This history, however, is often contradictory, contested, and varied."
--Jane Parpart
... the first and only book that systematically addresses Maasai culture and development from multiple perspectives of cultural identity and ethnicity, issues of land, labor, education, and, not least, changing perspectives and understanding of gender and gender relations in the society... rich both in historical detail and ethnographic substance."
--Elliot M. Fratkin
Drawing on archival sources as well as her extensive fieldwork in Tanzania, Dorothy L. Hodgson explores the ways identity, development, and gender have interacted to shape the Maasai into who and what they are today. By situating the Maasai in the political, economic, and social context of Tanzania and of world events, Hodgson shows how outside forces, and views of development in particular, have influenced Maasai lifeways, especially gender relations. Attitudes and assumptions of government and development officials who believed that the Maasai must maintain their pastoralist tradition determined the types of development schemes imposed. But rather than reinforce visions of the Maasai as intrepid warriors, development created new gender hierarchies, new responses to the pressures of modernity, and ambivalent attitudes toward education and local, national, and international politics. Five profiles of Maasai men and women interspersed w.
About the Author
Dorothy L. Hodgson teaches anthropology at Rutgers University, New Brunswick, New Jersey, where she is affiliated with the Center for African Studies and the Women's Studies Department.