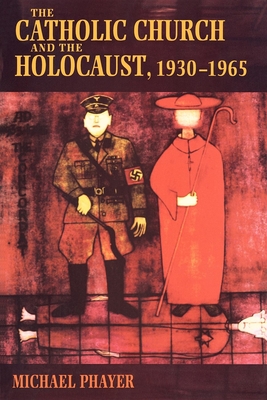 The Catholic Church and the Holocaust, 1930-1965 (Paperback)
Indiana University Press, 9780253214713, 328pp.
Publication Date: May 22, 2001
* Individual store prices may vary.
Description
Phayer offers exactly what was needed.... A fair and even-tempered account of a volatile subject." --Kirkus Reviews
An important addition to the literature of the Holocaust." --Publishers Weekly
Very valuable... a fine and judicious book." --Istv n De k, The New York Review of Books
Phayer has written a singularly important book on the role of the Catholic Church in both the Holocaust and its aftermath, up to and including Vatican II. Diligently researched and documented, judicious in its conclusions, comprehensive in its scope, compassionate and humane in its outlook, this book is an indispensable resource." --Richard L. Rubenstein
Phayer's study of the Catholic Church] as an actor in the tumultuous history of the 20th century] will serve as a model for other historians." --Donald J. Dietrich, Boston College
Phayer's book, particularly strong on German source material, is at pains to list Pius's strong points his piety, his loathing of Hitler, the instances of personal warmth, the occasions when he criticized Nazism. Phayer examines not only Pius's actions but those of other leading Catholics, and his study extends beyond the end of World War II to follow the evolution of official Catholic thinking during the rebuilding of Germany, the cold war, and the gradual theological reforms that led to Vatican II. This enables Phayer to show how the church completely reversed its position relative to the Jews, but it also gives him a more thorough reading of Pius XII's overall record. It is a damning and convincing verdict that emerges." --Commonweal
About the Author
Michael Phayer is Professor of History at Marquette University. His two most recent books, Protestant Catholic Women in Nazi Germany and (with Eva Fleischner) Cries in the Night: Women Who Challenged the Holocaust, dealextensively with Catholic-Jewish relations before and during the Shoah.