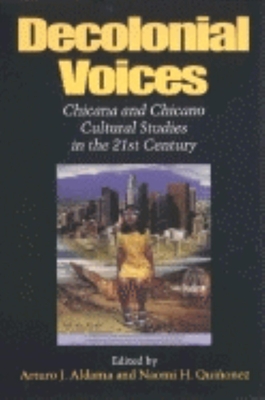 Decolonial Voices (Paperback)
Chicana and Chicano Cultural Studies in the 21st Century
Indiana University Press, 9780253214928, 432pp.
Publication Date: April 4, 2002
* Individual store prices may vary.
Description
The interdisciplinary essays in Decolonial Voices discuss racialized, subaltern, feminist, and diasporic identities and the aesthetic politics of hybrid and mestiza/o cultural productions. This collection represents several key directions in the field: First, it charts how subaltern cultural productions of the US/ Mexico borderlands speak to the intersections of "local," "hemispheric," and "globalized" power relations of the border imaginary. Second, it recovers the Mexican women's and Chicana literary and cultural heritages that have been ignored by Euro-American canons and patriarchal exclusionary practices. It also expands the field in postnationalist directions by creating an interethnic, comparative, and transnational dialogue between Chicana and Chicano, African American, Mexican feminist, and U.S. Native American cultural vocabularies.
Contributors include Norma Alarc n, Arturo J. Aldama, Frederick Luis Aldama, Cordelia Ch vez Candelaria, Alejandra Elenes, Ram n Garcia, Mar a Herrera-Sobek, Patricia Penn Hilden, Gaye T. M. Johnson, Alberto Ledesma, Pancho McFarland, Amelia Mar a de la Luz Montes, Laura Elisa P rez, Naomi Qui onez, Sarah Ramirez, Rolando J. Romero, Delberto Dario Ruiz, Vicki Ruiz, Jos David Sald var, Anna Sandoval, and Jonathan Xavier Inda.