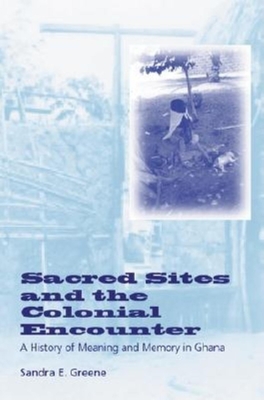 Sacred Sites and the Colonial Encounter (Paperback)
A History of Meaning and Memory in Ghana
Indiana University Press, 9780253215178, 224pp.
Publication Date: May 14, 2002
Other Editions of This Title:
Hardcover (5/1/2002)
* Individual store prices may vary.
Description
Greene gives the reader a vivid sense of the Anlo encounter with western thought and Christian beliefs... and the resulting erasures, transferences, adaptations, and alterations in their perceptions of place, space, and the body."
--Emmanuel Akyeampong
Sandra E. Greene reconstructs a vivid and convincing portrait of the human and physical environment of the 19th-century Anlo-Ewe people of Ghana and brings history and memory into contemporary context. Drawing on her extensive fieldwork, early European accounts, and missionary archives and publications, Greene shows how ideas from outside forced sacred and spiritual meanings associated with particular bodies of water, burial sites, sacred towns, and the human body itself to change in favor of more scientific and regulatory views. Anlo responses to these colonial ideas involved considerable resistance, and, over time, the Anlo began to attribute selective, varied, and often contradictory meanings to the body and the spaces they inhabited. Despite these multiple meanings, Greene shows that the Anlo were successful in forging a consensus on how to manage their identity, environment, and community.
About the Author
Sandra E. Greene is Associate Professor of African History at Cornell University. She is author of Gender, Ethnicity, and Social Change on the Upper Slave Coast: A History of the Anlo-Ewe and is working on a book on religion in the Atlantic slave trade. She is past-president of the African Studies Association.