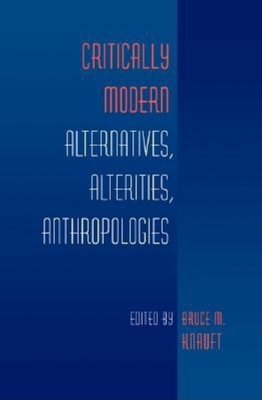 Critically Modern (Paperback)
Alternatives, Alterities, Anthropologies
Indiana University Press, 9780253215383, 344pp.
Publication Date: September 27, 2002
* Individual store prices may vary.
Description
Critically Modern makes a critical intervention in one of the great debates of the moment. It offers a variety of rich and fascinating empirical analyses of 'modern' phenomena from diverse societies, and contributes a powerful (and largely missing) voice to the growing literature on globalization and modernity outside anthropology."
--Charles Piot
In these essays theory and ethnography are presented in ways that make them mutually enriching. The volume should appeal to scholars across the entire range of disciplines that deal with modernity and/or globalization."
--Edward LiPuma
Are there multiple ways of being "modern" in the world today? How do people in various parts of the world become modern in their own distinct ways? Does the current focus on modernity in the social sciences resurrect a series of dichotomies ("traditional" and "modern," "the West" and "the Rest," "developed" and "undeveloped") that social theorists have sought to move beyond in recent years? Or do inflections of modernity capture key features of ideology and influence in the contemporary world? Combining rich ethnographic analysis with incisive theoretical critiques, this timely volume is certain to make an important mark in anthropology and in all related fields in which modernity is a central problematic.
Contributors: Donald L. Donham, Robert J. Foster, Jonathan Friedman, Ivan Karp, John D. Kelly, Bruce M. Knauft, Lisa B. Rofel, Debra A. Spitulnik, Michel-Rolph Trouillot, and Holly Wardlow.
About the Author
Bruce M. Knauft is Samuel C. Dobbs Professor of Anthropology at Emory University and Director of the Vernacular Modernities Program.