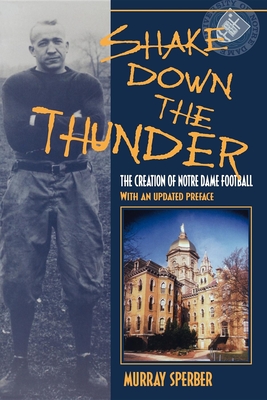 Shake Down the Thunder (Paperback)
The Creation of Notre Dame Football with an Updated Preface
Indiana University Press, 9780253215680, 664pp.
Publication Date: August 13, 2002
* Individual store prices may vary.
Description
"Sperber...tackles the details, great and small, unearthing a treasure." --New York Times Book Review
Shake Down the Thunder traces the history of the Notre Dame football program--which has acquired almost mythical proportions--from its humble origins in the 19th century to its status as the paragon of college sports. It presents the true story of the program's formative years, the reality behind the myths. Both social history and sports history, this book documents as never before the first half-century of Notre Dame football and relates it to the rise of big-time intercollegiate athletics, the college sports reform movement, and the corrupt sporting press of the period. Shake Down the Thunder is must reading for all Fighting Irish fans, their detractors, and any reader engaged by American cultural history.
About the Author
Murray Sperber is Professor of English and American Studies at Indiana University and author of Beer and Circuses: How Big-Time College Sports Is Crippling Undergraduate Education.