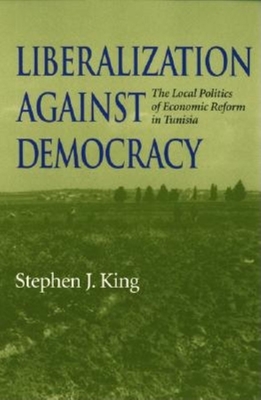 Liberalization Against Democracy (Paperback)
The Local Politics of Economic Reform in Tunisia
Indiana University Press, 9780253215833, 176pp.
Publication Date: June 18, 2003
Other Editions of This Title:
Hardcover (6/1/2003)
* Individual store prices may vary.
Description
... a very important contribution to contemporary debates on economic and political reform in developing countries. Based on interviews King conducted himself, this is an honest, unvarnished examination and critique of propositions that are treated like gospel." --Lisa Anderson
In Liberalization against Democracy, Stephen J. King argues that, in contrast to prevailing views, pro-market economic reforms in Tunisia did not foster democratization. Instead, state-led economic liberalization facilitated the reorganization of authoritarian rule and contributed to the subversion of democratic tendencies at both the national and local levels. In addition to King's analysis of neo-liberal economic transformation and regime change at the national level, his book offers a rare local-level analysis of these processes, based on the author's extensive fieldwork in the rural community of Tebourba. King's focus on the local level of analysis is particularly valuable. His community study shows firsthand how local elites have manipulated cultural traditionalism in order to sustain market-oriented reforms. This rich account clearly delineates the pathways by which pro-market reforms in
Tunisia have fostered corporatism, clientelism, and authoritarianism.
About the Author
STEPHEN J. KING is Assistant Professor of Government at Georgetown University.