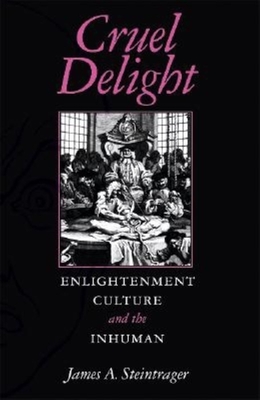 Cruel Delight (Paperback)
Enlightenment Culture and the Inhuman
Indiana University Press, 9780253216496, 232pp.
Publication Date: January 29, 2004
* Individual store prices may vary.
Description
An important contribution to studies of eighteenth-century culture and to literary history and theory and for those with an interest in horror, sentimentality, the invention of the modern individual, and ethics of 'the human.'"
-Daniel Cottom, David A. Burr Chair of Letters, University of Oklahoma
Cruel Delight: Enlightenment Culture and the Inhuman investigates the fascination with joyful malice in eighteenth-century Europe and how this obsession helped inform the very meaning of humanity. Steintrager reveals how the understanding of cruelty moved from an inexplicable, apparently paradoxical "inhuman" pleasure in the misfortune of others to an eminently human trait stemming from will and freedom. His study ranges from ethical philosophy and its elaboration of moral monstrosity as the negation of sentimental benevolence, to depictions of cruelty-of children mistreating animals, scientists engaged in vivisection, and the painful procedures of early surgery-in works such as William Hogarth's "The Four Stages of Cruelty," to the conflict between humane sympathy and radical liberty illustrated by the writings of the Marquis de Sade. In each instance, the wish to deny a place for cruelty in an enlightened world reveals a darker side: a deep investment in depravity, a need to reenact brutality in the name of combating it, and, ultimately, an erotic attachment to suffering.
About the Author
James A. Steintrager received his M.A. in French and Ph.D. in Comparative Literature from Columbia University. He teaches English and comparative literature at the University of California, Irvine. He has published articles and essays on Enlightenment philosophy, poststructuralist theory, and libertine fiction, and is now writing a study on pleasure as a social system.