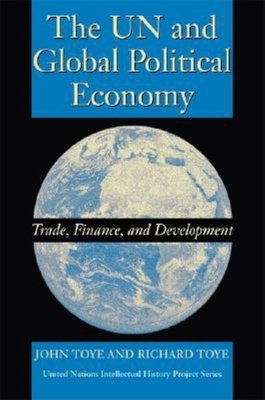 The UN and Global Political Economy (Paperback)
Trade, Finance, and Development (United Nations Intellectual History Project)
Indiana University Press, 9780253216861, 393pp.
Publication Date: July 9, 2004
* Individual store prices may vary.
Description
Against the backdrop of a 20-year revolt against free trade orthodoxy by economists inside the UN and their impact on policy discussions since the 1960s, the authors show how the UN both nurtured and inhibited creative and novel intellectual contributions to the trade and development debate. Presenting a stirring account of the main UN actors in this debate, The UN and Global Political Economy focuses on the accomplishments and struggles of UN economists and the role played by such UN agencies as the Department of Economic (and Social) Affairs, the United Nations Commission on Trade and Development, and the Economic Commission for Latin America (and the Caribbean). It also looks closely at the effects of the Latin American debt crisis of the 1980s, the growing strength of the World Trade Organization (WTO) in the 1990s, and the lessons to be drawn from these and other recent developments.
About the Author
John Toye is a political economist who has directed research on economic development at the Universities of Wales, Sussex, and Oxford. He has also worked as a British civil servant, as the director of a private consultancy company, and as a director of the United Nations Committee on Trade and Development. His previous books include Dilemmas of Development (2nd ed., 1993) and Keynes on Population (2000) and he has published numerous academic articles. Richard Toye is lecturer in history at Homerton College, Cambridge. He is the author of The Labour Party and the Planned Economy, 19311951 (2003) and co-author, with Jamie Miller, of Cripps versus Clayton (forthcoming).