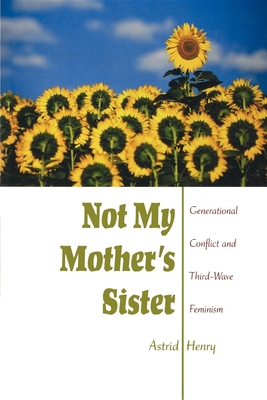 Not My Mother's Sister (Paperback)
Generational Conflict and Third-Wave Feminism
Indiana University Press, 9780253217134, 272pp.
Publication Date: September 7, 2004
* Individual store prices may vary.
Description
"No matter how wise a mother's advice is, we listen to our peers." At least that's writer Naomi Wolf's take on the differences between her generation of feminists--the third wave--and the feminists who came before her and developed in the late '60s and '70s--the second wave. In Not My Mother's Sister, Astrid Henry agrees with Wolf that this has been the case with American feminism, but says there are problems inherent in drawing generational lines.
Henry begins by examining texts written by women in the second wave, and illustrates how that generation identified with, yet also disassociated itself from, its feminist "foremothers." Younger feminists now claim the movement as their own by distancing themselves from the past. By focusing on feminism's debates about sexuality, they are able to reject the so-called victim feminism of Catherine MacKinnon and Andrea Dworkin. Rejecting the orthodoxies of the second wave, younger feminists celebrate a woman's right to pleasure. Henry asserts, however, that by ignoring diverse older voices, the new generation has oversimplified generational conflict and has underestimated the contributions of earlier feminists to women's rights. They have focused on issues relating to personal identity at the expense of collective political action.
Just as writers like Wolf, Katie Roiphe, and Rene Denfeld celebrate a "new" feminist (hetero)sexuality posited in generational terms, queer and lesbian feminists of the third wave similarly distance themselves from those who came before. Henry shows how 1970s lesbian feminism is represented in ways that are remarkably similar to the puritanical portrait of feminism offered by straight third-wavers. She concludes by examining the central role played by feminists of color in the development of third-wave feminism. Indeed, the term "third wave" itself was coined by Rebecca Walker, daughter of Alice Walker.
Not My Mother's Sister is an important contribution to the exchange of ideas among feminists of all ages and persuasions.
About the Author
Astrid Henry is Louise R. Noun Chair in Women's Studies at Grinnell College, where she teaches in the Gender, Women's, and Sexuality Studies Program. Her essays have been published in the journals Women's Studies Quarterly and PMLA, as well as in anthologies such as Rethinking Women's and Gender Studies, Fashion Talks: Undressing the Power of Style, Reading "Sex and the City," and Catching a Wave: Reclaiming Feminism for the 21st Century.