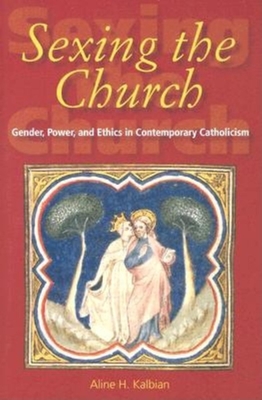 Sexing the Church (Paperback)
Gender, Power, and Ethics in Contemporary Catholicism
Indiana University Press, 9780253217509, 184pp.
Publication Date: April 5, 2005
Other Editions of This Title:
Hardcover (4/1/2005)
* Individual store prices may vary.
Description
A wonderful book that gives us a fresh angle of vision on modern Roman Catholic teaching about sex, marriage, gender relationships, and reproduction. After reading Sexing the Church, few will doubt the extent to which Catholic teaching about the law of nature owes no small debt to history and culture." --Richard B. Miller, Poynter Center for the Study of Ethics and American Institutions
...Catholic attitudes about women in the priesthood... display a] contradiction between egalitarian and subordinationist views.... Women are denied access to the 'eucharistic' priesthood because allowing them in would upset the redemptive order. Why is it, then, that imagery from the created order (women as mothers, brides, virgins) is often used to describe the redemptive 'mystery' that connects Christ with the Church? Why is the Church 'sexed' female?... This sexing of the Church is more than just an example of how gender and order work in Catholic morality; it also reveals tensions in the complex patterns of Catholic reasoning about marriage, reproduction, and church authority. In a surprising way, it challenges the order enforced by the Catholic ethics of marriage and reproduction." --from Chapter One
The regulation of human sexuality in contemporary Catholicism, a topic that monopolizes public conversation about the Catholic Church, is also a central concern of Catholic theological discussions of religious ethics. Aline H. Kalbian traces the history of the connection between moral theology and sexual ethics as it applies to the concern for order in official teachings on marriage, reproduction, and sex. She explores order as it is reflected in the theology of marriage, the 20th-century challenge to that order in the debates on contraception and assisted reproduction, and the way attitudes about gender in Catholicism connect theological and moral order with ecclesiastical order.
About the Author
Aline H. Kalbian is Assistant Professor of Religion at Florida State University. She lives in Tallahassee, Florida.