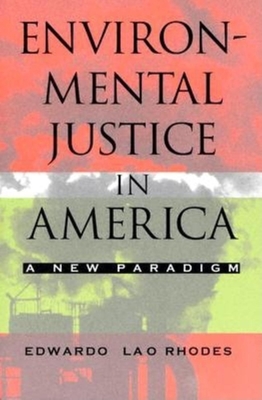 Environmental Justice in America (Paperback)
A New Paradigm
Indiana University Press, 9780253217745, 263pp.
Publication Date: February 15, 2005
* Individual store prices may vary.
Description
Edwardo Lao Rhodes examines the issue of environmental justice as a public policy concern and suggests the use of a new methodology in its evaluation. Rather than argue the merits of growth versus environmental protection, he makes the case that race and class were not major concerns of environmental policy until the 1990s. Why this was so, and why awareness of social justice should be an important consideration in thinking about environmental impact, takes up the first part of the book. Part II looks more closely at public policy concerns and discusses the methodological approaches that can illuminate the problem of environmental justice. Rhodes proposes the use of "data envelopment analysis" as a more useful risk-assessment tool than current methodologies. The book's final section examines the disposal of hazardous material in rural Noxubee County, Mississippi. After acknowledging the difficulties of arriving at an "equitable" solution in this complex case, Rhodes discusses recommendations that might ensure that sharing the burden of risk becomes a fundamental part of environmental policy. Although Environmental Justice in America deals primarily with the United States, it raises issues of international concern: global environmental justice programs, national sovereignty, the paternalism of developed nations toward the underdeveloped world, and questions of economic necessity.
About the Author
Edwardo Lao Rhodes is Professor of Public and Environmental Affairs at Indiana University. He is a former Brookings Institute Economic Policy Fellow and has served in New York City government, the U.S. Navy, the Office of the Secretary of the Interior, and the Office of Environmental Justice in the U.S. Environmental Protection Agency.