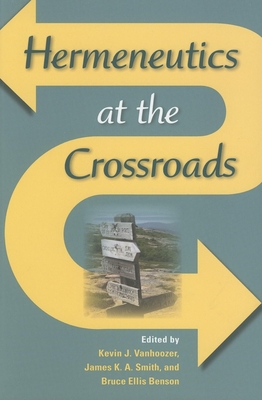 Hermeneutics at the Crossroads (Indiana Series in the Philosophy of Religion)
Paperback

* Individual store prices may vary.
Description
In this multi-faceted volume, Christian and other religiously committed theorists find themselves at an uneasy point in history--between premodernity, modernity, and postmodernity--where disciplines and methods, cultural and linguistic traditions, and religious commitments tangle and cross. Here, leading theorists explore the state of the art of the contemporary hermeneutical terrain. As they address the work of Gadamer, Ricoeur, and Derrida, the essays collected in this wide-ranging work engage key themes in philosophical hermeneutics, hermeneutics and religion, hermeneutics and the other arts, hermeneutics and literature, and hermeneutics and ethics. Readers will find lively exchanges and reflections that meet the intellectual and philosophical challenges posed by hermeneutics at the crossroads.
Contributors are Bruce Ellis Benson, Christina Bieber Lake, John D. Caputo, Eduardo J. Echeverria, Benne Faber, Norman Lillegard, Roger Lundin, Brian McCrea, James K. A. Smith, Michael VanderWeele, Kevin Vanhoozer, and Nicholas Wolterstorff.
Indiana University Press, 9780253218490, 264pp.
Publication Date: June 15, 2006
About the Author
Kevin Vanhoozer is Research Professor of Systematic Theology at Trinity Evangelical Divinity School.James K. A. Smith is Associate Professor of Philosophy and Director of Seminars in Christian Scholarship at Calvin College.Bruce Ellis Benson is Associate Professor of Philosophy at Wheaton College.