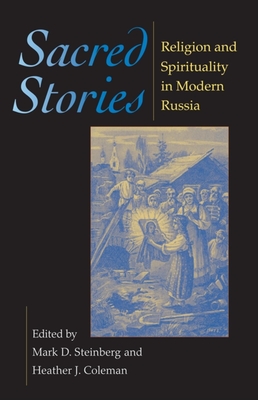 Sacred Stories (Paperback)
Religion and Spirituality in Modern Russia
Indiana University Press, 9780253218506, 432pp.
Publication Date: January 24, 2007
* Individual store prices may vary.
Description
Sacred Stories brings together the work of leading scholars writing on the history of religion and religiosity in late imperial Russia during the critical decades preceding the 1917 revolutions. Embodying new research and new methodologies, this book reshapes our understanding of the place of religion in modern Russian history. Topics examined include miraculous icons and healing, pilgrim narratives, confessions, women and Orthodox domesticity, marriage and divorce, conversion and tolerance, Jewish folk beliefs, mysticism in Russian art, and philosophical aspects of Orthodox religious thought. Sacred Stories demonstrates that belief, spirituality, and the sacred were powerful and complex cultural expressions central to Russian political, social, economic, and cultural life.
Contributors are Nicholas B. Breyfogle, Heather J. Coleman, Gregory L. Freeze, Nadieszda Kizenko, Alexei A. Kurbanovsky, Roy R. Robson, Bernice Glatzer Rosenthal, Gabriella Safran, Vera Shevzov, Sarah Abrevaya Stein, Mark Steinberg, Paul Valliere, William G. Wagner, Paul W. Werth, and Christine D. Worobec.
About the Author
Mark D. Steinberg is Professor of History at the University of Illinois, Urbana-Champaign. His books include The Fall of the Romanovs; Voices of Revolution, 1917; and Proletarian Imagination: History, Religion, and the Sacred in Russia.Heather J. Coleman is Associate Professor and Canada Research Chair in Imperial Russian History in the Department of History and Classics at the University of Alberta. She is author of Russian Baptists and Spiritual Revolution, 1905-1929 (IUP, 2005).