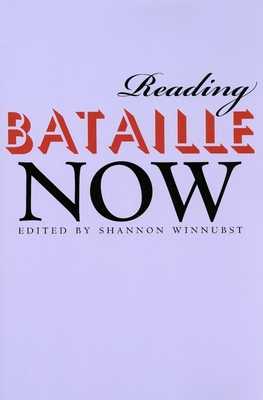 Reading Bataille Now (Paperback)
Indiana University Press, 9780253218827, 288pp.
Publication Date: January 8, 2007
* Individual store prices may vary.
Description
Reviled and fetishized, the work of Georges Bataille (1897-1962) has been most often reduced to his outrageous, erotic, and libertine fiction and essays. But increasingly, readers are finding his insights into politics, economics, sexuality, and performance revealing and timely. Focusing on Bataille's most extensive work, The Accursed Share, Shannon Winnubst and the contributors to this volume present contemporary interpretations that read Bataille in a new light. These essays situate Bataille in French and European intellectual traditions, bring forward key concepts for understanding the challenges posed by his important work, and draw out his philosophy. Established voices and younger scholars cover a range of topics and themes, including ethics, politics, economy, psychology, and performance so readers can think with and through Bataille. While focusing attention on Bataille and his provocative work, this book offers a sympathetic, yet critical, reappraisal and rehabilitation.
Contributors are Alison Leigh Brown, Andrew Cutrofello, Zeynep Direk, Jesse Goldhammer, Dorothy Holland, Pierre Lamarche, Richard A. Lee, Jr., Alphonso Lingis, Ladelle McWhorter, Lucio A. Privitello, Allan Stoekl, Amy Wendling, and Shannon Winnubst.
About the Author
Shannon Winnubst is Professor of Philosophy at Southwestern University and author of Queering Freedom (IUP, 2006).