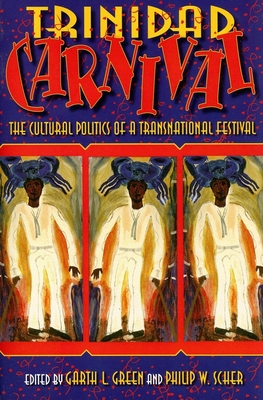 Trinidad Carnival (Paperback)
The Cultural Politics of a Transnational Festival
Indiana University Press, 9780253218834, 254pp.
Publication Date: March 1, 2007
* Individual store prices may vary.
Description
Like many Caribbean nations, Trinidad has felt the effects of globalization on its economy, politics, and expressive culture. Even Carnival, once a clandestine folk celebration, has been transformed into a major transnational festival. In Trinidad Carnival, Garth L. Green, Philip W. Scher, and an international group of scholars explore Carnival as a reflection of the nation and culture of Trinidad and Trinidadians worldwide. The nine essays cover topics such as women in Carnival, the politics and poetics of Carnival, Carnival and cultural memory, Carnival as a tourist enterprise, the steelband music of Carnival, Calypso music on the world stage, Carnival and rap, and Carnival as a global celebration. For readers interested in the history and current expression of Carnival, this volume offers a multidimensional and transnational view of Carnival as a representation of Trinidad and Caribbean culture everywhere.
Contributors are Robin Balliger, Shannon Dudley, Pamela R. Franco, Patricia A. de Freitas, Ray Funk, Garth L. Green, Donald R. Hill, Lyndon Phillip, Victoria Razak, and Philip W. Scher.
About the Author
Garth L. Green is a lecturer in the Department of Anthropology and International Studies at the University of North Carolina, Charlotte.Philip W. Scher is Associate Professor of Anthropology at the University of Oregon. He is author of Carnival and the Formation of a Caribbean Transnation and editor of Perspectives on the Caribbean: A Reader in Culture and Representation.