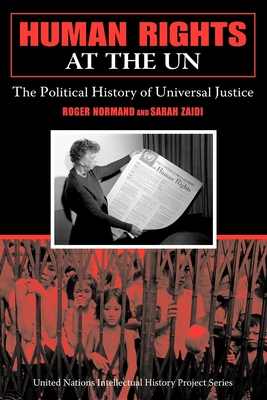 Human Rights at the UN (Paperback)
The Political History of Universal Justice (United Nations Intellectual History Project)
Indiana University Press, 9780253219343, 486pp.
Publication Date: January 1, 2008
* Individual store prices may vary.
Description
Human rights activists Roger Normand and Sarah Zaidi provide a broad political history of the emergence and development of the human rights movement in the 20th century through the crucible of the United Nations, focusing on the hopes and expectations, concrete power struggles, national rivalries, and bureaucratic politics that molded the international system of human rights law. The book emphasizes the period before and after the creation of the UN, when human rights ideas and proposals were shaped and transformed by the hard-edged realities of power politics and bureaucratic imperatives. It also analyzes the expansion of the human rights framework in response to demands for equitable development after decolonization and organized efforts by women, minorities, and other disadvantaged groups to secure international recognition of their rights.
About the Author
Roger Normand is Associate Professor of Law at Lahore University, Pakistan, and co-founder and former executive director of the Center for Economic and Social Rights. He has lectured widely on topics related to international politics and human rights. He lives in Lahore, Pakistan. Sarah Zaidi is Coordinator of Research and Information Systems for Earthquakes-Pakistan and co-founder of the Center for Economic and Social Rights. She lives in Lahore, Pakistan.