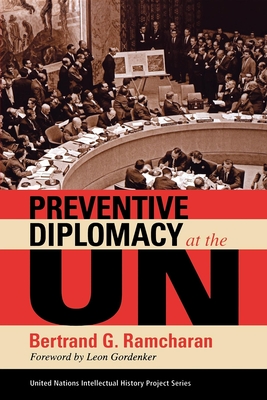 Preventive Diplomacy at the Un (United Nations Intellectual History Project) (Paperback)
Indiana University Press, 9780253219831, 266pp.
Publication Date: May 7, 2008
* Individual store prices may vary.
Description
The concept of preventive diplomacy has captivated the United Nations since it was first articulated by Secretary-General Dag Hammarskj ld a half-century ago. Successive generations of diplomats and statesmen have invested in the idea that diplomatic efforts might be able to head off international conflicts and disasters. Dramatic successes, such as the Cuban Missile Crisis of 1962, contrast with dramatic failures, such as the inability of UN efforts to halt the invasion of Iraq in 2003. In this careful study, distinguished former UN civil servant Bertrand G. Ramcharan traces the history of the practice of preventive diplomacy by UN Secretaries-General, the Security Council, and other UN organizations, and assesses the record of preventive diplomacy and examines its prospects in an age of genocide and terrorism.
About the Author
Bertrand G. Ramcharan is Professor of International Human Rights Law at the Geneva Graduate Institute of International Studies and Chancellor of the University of Guyana. He was a member of the UN Secretariat for 32 years and served as Deputy High Commissioner for Human Rights. He is the author or editor of more than 25 books on international law, human rights, and the United Nations.