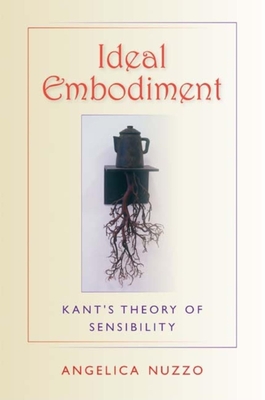 Ideal Embodiment (Paperback)
Kant's Theory of Sensibility (Studies in Continental Thought)
Indiana University Press, 9780253220158, 414pp.
Publication Date: October 28, 2008
* Individual store prices may vary.
Description
Angelica Nuzzo offers a comprehensive reconstruction of Kant's theory of sensibility in his three Critiques. By introducing the notion of "transcendental embodiment," Nuzzo proposes a new understanding of Kant's views on science, nature, morality, and art. She shows that the issue of human embodiment is coherently addressed and key to comprehending vexing issues in Kant's work as a whole. In this penetrating book, Nuzzo enters new terrain and takes on questions Kant struggled with: How does a body that feels pleasure and pain, desire, anger, and fear understand and experience reason and strive toward knowledge? What grounds the body's experience of art and beauty? What kind of feeling is the feeling of being alive? As she comes to grips with answers, Nuzzo goes beyond Kant to revise our view of embodiment and the essential conditions that make human experience possible.
About the Author
Angelica Nuzzo is Professor of Philosophy at the Graduate Center and Brooklyn College (City University of New York). She has received a Mellon Fellowship at the Center for the Humanities, CUNY, Graduate Center (20072008), an Alexander von Humboldt Fellowship (20052006), and been a Fellow at the Radcliffe Institute for Advanced Studies at Harvard (20002001). Among her publications are Kant and the Unity of Reason (2005), two volumes on Hegel (Logica e sistema, 1996; Rappresentazione e concetto nella logica della Filosofia del diritto, 1990), and the monograph System (2003). Her numerous essays on German Idealism, modern philosophy, and theory of translation appear in such journals as the Journal of the History of Philosophy, Metaphilosophy, Journal of Philosophy and Social Criticism, Hegel Studien, and Fichte Studien.