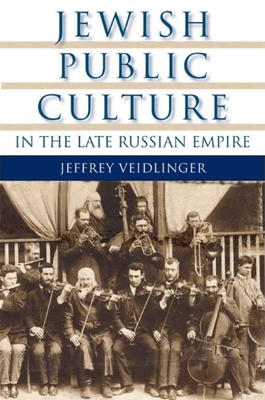 Jewish Public Culture in the Late Russian Empire (Modern Jewish Experience) (Paperback)
Indiana University Press, 9780253220585, 382pp.
Publication Date: March 1, 2009
* Individual store prices may vary.
Description
In the midst of the violent, revolutionary turmoil that accompanied the last decade of tsarist rule in the Russian Empire, many Jews came to reject what they regarded as the apocalyptic and utopian prophecies of political dreamers and religious fanatics, preferring instead to focus on the promotion of cultural development in the present. Jewish Public Culture in the Late Russian Empire examines the cultural identities that Jews were creating and disseminating through voluntary associations such as libraries, drama circles, literary clubs, historical societies, and even fire brigades. Jeffrey Veidlinger explores the venues in which prominent cultural figures--including Sholem Aleichem, Mendele Moykher Sforim, and Simon Dubnov--interacted with the general Jewish public, encouraging Jewish expression within Russia's multicultural society. By highlighting the cultural experiences shared by Jews of diverse social backgrounds--from seamstresses to parliamentarians--and in disparate geographic locales--from Ukrainian shtetls to Polish metropolises--the book revises traditional views of Jewish society in the late Russian Empire.
About the Author
Jeffrey Veidlinger is Associate Professor of History, Alvin H. Rosenfeld Chair in Jewish Studies, and Associate Director of the Borns Jewish Studies Program at Indiana University Bloomington. He is author of The Moscow State Yiddish Theater: Jewish Culture on the Soviet Stage (IUP, 2001) and co-director of the Archive of Historical and Ethnographic Yiddish Memories.