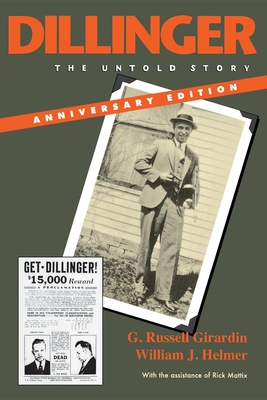 Dillinger, Anniversary Edition (Paperback)
The Untold Story
Indiana University Press, 9780253221100, 403pp.
Publication Date: June 1, 2009
* Individual store prices may vary.
Description
While researching a book on Depression-era outlaws, Playboy editor William J. Helmer stumbled upon a 600-page manuscript on John Dillinger. Written in the 1930s by G. Russell Girardin but never published, Dillinger: The Untold Story is a captivating and revealing account of Dillinger's life and crimes, based in part on information given to Girardin by the outlaw's lawyer, Louis Piquett, shortly after Dillinger's death. Though a series of articles written by Girardin and Piquett appeared in various newspapers at the time, the manuscript continued to yellow on the shelf for half a century until Helmer met Girardin and agreed to help get it published. This anniversary edition is filled with more illustrations and new information from FBI files and other sources, making it a rich and authentic slice of American history and a feast for true crime buffs.
About the Author
G. Russell Girardin had a successful career as the head of an advertising agency. He died mere months after showing William J. Helmer the long-forgotten manuscript on Dillinger.William J. Helmer is author of The Gun That Made the Twenties Roar and other books on the gangland era. He lives in Boerne, Texas.Rick Mattix is author (with William J. Helmer) of Public Enemies: America's Criminal Past, 1919-1940. He lives in Bussey, Iowa.