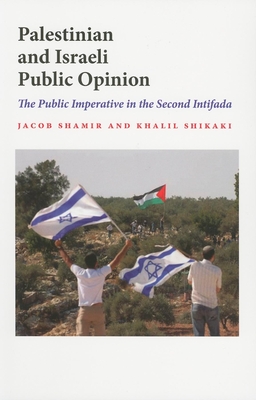 Palestinian and Israeli Public Opinion (Paperback)
The Public Imperative in the Second Intifada (Indiana Series in Middle East Studies)
Indiana University Press, 9780253221728, 205pp.
Publication Date: April 15, 2010
* Individual store prices may vary.
Description
Palestinian and Israeli Public Opinion is based on a unique project: the Joint Israeli-Palestinian Poll (JIPP). Since 2000, Jacob Shamir and Khalil Shikaki have directed joint surveys among Israelis and Palestinians, providing a rare opportunity to examine public opinion on two sides of an intractable conflict. Adopting a two-level game theory approach, Shamir and Shikaki argue that public opinion is a multifaceted phenomenon and a critical player in international politics. They examine how the Israeli and Palestinian publics' assessments, expectations, mutual perceptions and misperceptions, and overt political action fed into domestic policy formation and international negotiations--from the failure of the 2000 Camp David summit through the second Intifada and the elections of 2006. A discussion of the study's implications for policymaking and strategic framing of future peace agreements concludes this timely and informative book.
About the Author
Jacob Shamir is Associate Professor in the Department of Communication and Journalism and Senior Research Fellow at the Harry S. Truman Institute for the Advancement of Peace at the Hebrew University of Jerusalem. He is author of The Anatomy of Public Opinion(with Michal Shamir) and of numerous articles and reports on public opinion in the Israeli-Palestinian conflict.Khalil Shikaki has taught political science at several universities, and is currently the director of the Palestinian Center for Policy and Survey Research in Ramallah and a senior fellow at the Crown Center for Middle East Studies at Brandeis University.