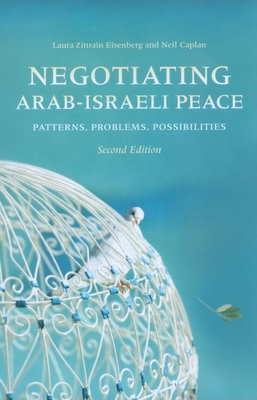 Negotiating Arab-Israeli Peace (Paperback)
Patterns, Problems, Possibilities (Indiana Series in Middle East Studies)
Indiana University Press, 9780253222121, 431pp.
Publication Date: July 14, 2010
* Individual store prices may vary.
Description
Thoroughly updated and expanded, this new edition of Negotiating Arab-Israeli Peace examines the history of recurrent efforts to resolve the Arab-Israeli conflict and identifies a pattern of negative negotiating behaviors that seem to repeatedly derail efforts to achieve peace. In a lively and accessible style, Laura Zittrain Eisenberg and Neil Caplan examine eight case studies of recent Arab-Israeli diplomatic encounters, from the Egyptian-Israeli peace of 1979 to the beginning of the Obama administration, in light of the historical record. By measuring contemporary diplomatic episodes against the pattern of counterproductive negotiating habits, this book makes possible a coherent comparison of over sixty years of Arab-Israeli negotiations and gives readers a framework with which to assess the relative strengths and weaknesses of peace-making attempts, past, present, and future.
About the Author
Laura Zittrain Eisenberg is a Teaching Professor of History at Carnegie Mellon University in Pittsburgh. She is the author of My Enemy's Enemy: Lebanon in the Early Zionist Imagination, 1900-1948 and many articles on the Arab-Israeli conflict.Neil Caplan is Scholar-in-Residence at Vanier College and Adjunct Assistant Professor of History at Concordia University, both in Montreal, Canada. He is author of Palestine Jewry and the Arab Question, 1917-1925, Futile Diplomacy, a four-volume study of Arab-Zionist and Arab-Israeli negotiations to 1956, and The Israel-Palestine Conflict: Contested Histories.