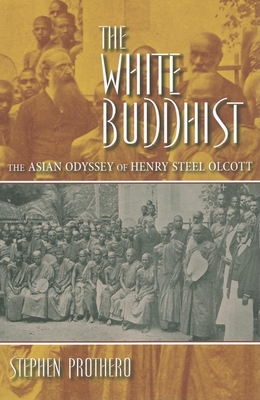 The White Buddhist (Paperback)
The Asian Odyssey of Henry Steel Olcott (Religion in North America)
Indiana University Press, 9780253222763, 242pp.
Publication Date: November 18, 2010
* Individual store prices may vary.
Description
Denounced by the New York Times as an "unmitigated rascal" while simultaneously being lauded as a reincarnation of Gautama Buddha himself, Henry Steel Olcott (1832-1907) was friend to Madame Blavatsky, co-founder of the Theosophical Society, and an indefatigable reformer and culture broker between East and West. Olcott helped bring about a new spiritual creation, Protestant Buddhism, a creative creolization of American Protestantism, traditional Theravada Buddhism, and other influences. Stephen Prothero's portrait of Olcott is an engaging study of spiritual quest and cross-cultural encounters.
About the Author
Stephen Prothero is Professor of Religion at Boston University. His books include God is Not One: The Eight Religious Rivals that Run the World; American Jesus: How the Son of God Became a National Icon; and the New York Times bestseller Religious Literacy: What Every American Needs to Know--and Doesn't, which won a 2007 Quill Book Award. Prothero blogs for CNN's Belief Blog and has written for the New York Times, Wall Street Journal, USA Today, Newsweek, Slate, and Salon.