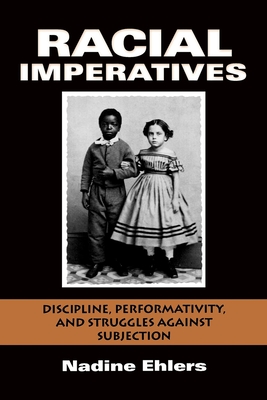 Racial Imperatives (Paperback)
Discipline, Performativity, and Struggles Against Subjection
Indiana University Press, 9780253223364, 184pp.
Publication Date: May 18, 2012
Other Editions of This Title:
Hardcover (5/18/2012)
* Individual store prices may vary.
Description
Nadine Ehlers examines the constructions of blackness and whiteness cultivated in the U.S. imaginary and asks, how do individuals become racial subjects? She analyzes anti-miscegenation law, statutory definitions of race, and the rhetoric surrounding the phenomenon of racial passing to provide critical accounts of racial categorization and norms, the policing of racial behavior, and the regulation of racial bodies as they are underpinned by demarcations of sexuality, gender, and class. Ehlers places the work of Michel Foucault, Judith Butler's account of performativity, and theories of race into conversation to show how race is a form of discipline, that race is performative, and that all racial identity can be seen as performative racial passing. She tests these claims through an excavation of the 1925 "racial fraud" case of Rhinelander v. Rhinelander and concludes by considering the possibilities for racial agency, extending Foucault's later work on ethics and "technologies of the self" to explore the potential for racial transformation.
About the Author
Nadine Ehlers is Assistant Professor of Women's and Gender Studies at Georgetown University.