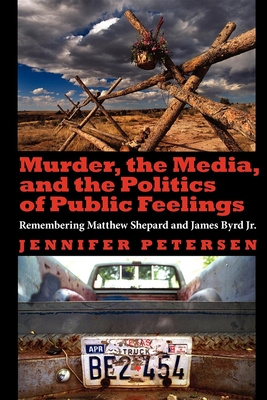 Murder, the Media, and the Politics of Public Feelings (Paperback)
Remembering Matthew Shepard and James Byrd Jr.
Indiana University Press, 9780253223395, 210pp.
Publication Date: August 18, 2011
Description
In 1998, the horrific murders of Matthew Shepard a gay man living in Laramie, Wyoming and James Byrd Jr. an African American man dragged to his death in Jasper, Texas provoked a passionate public outrage. The intense media coverage of the murders made moments of violence based in racism and homophobia highly visible and which eventually led to the passage of The Matthew Shepard and James Byrd Jr. Hate Crimes Prevention Act in 2009. The role the media played in cultivating, shaping, and directing the collective emotional response toward these crimes is the subject of this gripping new book by Jennifer Petersen. Tracing the emotional exchange from news stories to the creation of law, Petersen calls for an approach to media and democratic politics that takes into account the role of affect in the political and legal life of the nation.
About the Author
Jennifer Petersen is Assistant Professor of Media Studies at the University of Virginia. Her work has appeared in numerous journals including Media, Culture & Society and Critical Studies in Media Communication.
Advertisement