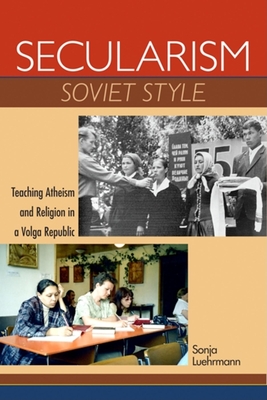 Secularism Soviet Style (Paperback)
Teaching Atheism and Religion in a Volga Republic (New Anthropologies of Europe)
Indiana University Press, 9780253223555, 275pp.
Publication Date: November 24, 2011
Other Editions of This Title:
Hardcover (11/1/2011)
* Individual store prices may vary.
Description
Sonja Luehrmann explores the Soviet atheist effort to build a society without gods or spirits and its afterlife in post-Soviet religious revival. Combining archival research on atheist propaganda of the 1960s and 1970s with ethnographic fieldwork in the autonomous republic of Marij El in Russia's Volga region, Luehrmann examines how secularist culture-building reshaped religious practice and interreligious relations. One of the most palpable legacies of atheist propaganda is a widespread didactic orientation among the population and a faith in standardized programs of personal transformation as solutions to wider social problems. This didactic trend has parallels in globalized forms of Protestantism and Islam but differs from older uses of religious knowledge in rural Russia. At a time when the secularist modernization projects of the 20th century are widely perceived to have failed, Secularism Soviet Style emphasizes the affinities and shared histories of religious and atheist mobilizations.
About the Author
Sonja Luehrmann is Assistant Professor of Anthropology at Simon Fraser University and author of Alutiiq Villages under Russian and U.S. Rule.