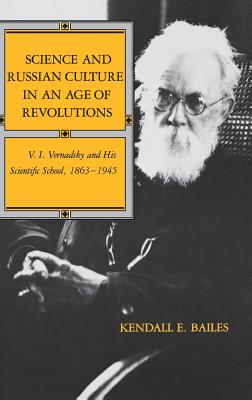 Science and Russian Culture in an Age of Revolutions (Hardcover)
V. I. Vernadsky and His Scientific School, 1863-1945
Indiana University Press, 9780253311238, 252pp.
Publication Date: January 22, 1990
* Individual store prices may vary.
Description
" . . . scholarship of the highest order. . . . Kendall Bailes's book is destined to become a most valuable contribution to our knowledge of Russian and Soviet culture. It is insightful and eloquent." --Douglas R. Weiner
" . . . an insightful, richly researched portrait of Vernadsky's life and times . . . " --American Scientist
"This biography . . . not only tells a story full of human drama but also one rich with insights into Russia's higher-education and scientific-research establishments." --Washington Post Book World
" This] concise book, with references that stop short of the Gorbachev era, will be the foundation for all future scholarship in English on Vernadsky." --Nature
"In this insightful exploration of Vernadsky's legacy, Kendall Bailes unveils a creative scholar-activist whose life and work speak more clearly about his time than our own." --Science
"The Bailes book . . . is fascinating . . . Read it " --World Affairs Report
"Kendall Bailes has left us with a vivid portrayal of the life and times of Vladimir Vernadsky." --The Russian Review
"It offers a penetrating analysis of social realities in twentieth-century Russia, which helped create an intellectual culture dominated by ideological extremes." --American Historical Review
This first full-length English-language biography of Vladimir Vernadsky (1863-1945), one of the leading Russian intellectual figures of the twentieth century, focuses on the interaction between science and politics during Russia's revolutionary age.