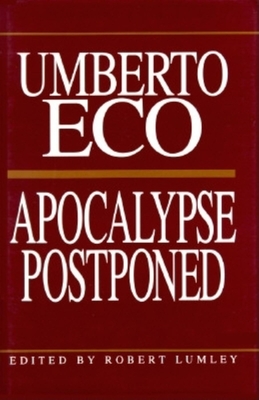 Apocalypse Postponed (Hardcover)
Essays by Umberto Eco (Perspectives)
Indiana University Press, 9780253318510, 240pp.
Publication Date: November 1, 2000
Other Editions of This Title:
Paperback (11/1/2000)
* Individual store prices may vary.
Description
An erudite and witty collection of Umberto Eco's essays on mass culture from the 1960s through the 1980s, including major pieces which have not been translated into English before. The discussion is framed by opposing characterizations of current intellectuals as apocalyptic and opposed to all mass culture, or as integrated intellectuals, so much a part of mass culture as to be unaware of serving it. Organized in four main parts, ""Mass Culture: Apocalypse Postponed, "" ""Mass Media and the Limits of Communication, "" ""The Rise and Fall of Counter-Cultures, "" and ""In Search of Italian Genius, "" Eco looks at a variety of topics and cultural productions, including the world of Charlie Brown, distinctions between highbrow and lowbrow, the future of literacy, Chinese comic strips, whether countercultures exist, Fellini's Ginger and Fred, and the Italian genius industry.
About the Author
Umberto Eco (1932-2016) was an Italian novelist, medievalist, semiotician, philosopher, and literary critic. He is the author of several bestselling novels, including The Name of The Rose, Foucault's Pendulum, The Island of The Day Before, and Baudolino. His collections of essays include Five Moral Pieces, Kant and the Platypus, Serendipities, Travels In Hyperreality, and How To Travel With a Salmon and Other Essays.