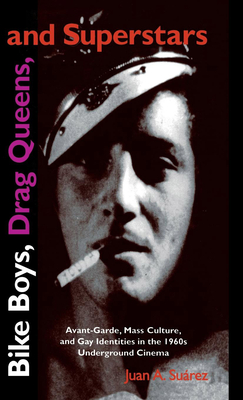 Bike Boys, Drag Queens, and Superstars (Hardcover)
Avant-Garde, Mass Culture, and Gay Identities in the 1960s Underground Cinema
Indiana University Press, 9780253329714, 384pp.
Publication Date: March 22, 1996
* Individual store prices may vary.
Description
This comprehensive, insightful study demonstrates that 1960s New York underground film fused 'artistic innovation and the exploration of everyday life' and distinctively interacted with mass culture.'" --Choice
... thoroughly researched and] engaging text... " --Library Journal
This is a very timely and welcome book.... intervenes very effectively to rewrite the history of the 1960s American underground cinema." --UTS Review
At the confluence of experimental art and the gay subculture of early 1960s New York, Juan Su rez discovers a postmodern, gay-influenced aesthetic that "recycles" popular culture. Filmmakers Kenneth Anger, Jack Smith, and Andy Warhol epitomize this sensibility, combining the influences of European avant-garde movements, comic books, rock 'n' roll, camp, film cults, drag performances, fashion, and urban street cultures.