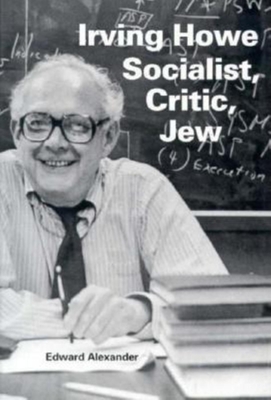 Irving Howeasocialist, Critic, Jew (Hardcover)
Indiana University Press, 9780253333643, 304pp.
Publication Date: April 22, 1998
Description
..". scrupulous, fair-minded and richly-detailed study... the book charts one of the most remarkable intellectual careers of the 20th century's latter half.... What is most heartening about Mr. Alexander's biography is its exemplary civility and nuance in discussing ideas across the lines of political difference." --Nathan Glick, Washington Times
"Anyone interested in Howe's varied career, and the historical context that has given it its particular shape--American radicalism, the Cold War and anticommunism, the New Left, literary modernism, Jewish life--will profit handsomely from reading Alexander's respectful book." --Wilson Quarterly
"Edward Alexander's captivating study of Irving Howe is illuminating and
scrupulous; it is also temperate, generous, and deeply fair-minded. If
Howe were alive, he would thank the author--and even now, in Paradise, he
is surely doing so (while hotly continuing the discussion)."--Cynthia Ozick
..". a singular achievement." --Jerusalem Post
..". a masterpiece" --National Jewish Post and Opinion
..". meticulous scholarship, felicitous writing style and a literate feistiness." --Chicago Jewish Star
"An excellent work of insight and criticism, recommended for academic libraries." --Library Journal
"An insightful, balanced contribution..." --Booklist
"Edward Alexander's estimable intellectual biography... studiously avoids both undue sentimentality and overly harsh censure." --Sanford Pinsker, Philadelphia Inquirer
"Edward Alexander's well-informed and engaging portrait of Irving Howe does full justice to the complexities of mind and the political passions of one of this country's leading intellectuals. This bracing, perceptive study honors Howe's admirable career by treating it with the same high degree of moral seriousness that characterized Howe's own work at its best." --Alvin H. Rosenfeld
Irving Howe, author of World of Our Fathers, the prize-winning history of American Jewish immigrant culture, and founding editor of the influential magazine Dissent, was for over 50 years a dominant--and controversial--figure in American intellectual life. Through a clear and eloquent study of Howe's politics, writings, and thought, Edward Alexander constructs a sympathetic yet critical intellectual biography of this complex individual.
About the Author
Edward Alexander is Professor of English at the University of Washington. His books include Matthew Arnold, John Ruskin, and the Modern Temper; The Resonance of Dust: Essays on Holocaust Literature and Jewish Fate; Isaac Bashevis Singer: A Study of the Short Fiction; and The Holocaust and the War of Ideas.
Advertisement