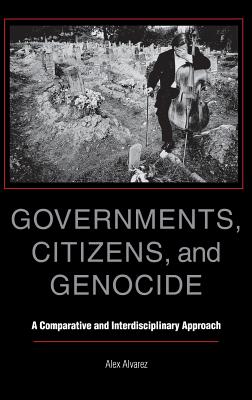 Governments, Citizens, and Genocide (Hardcover)
A Comparative and Interdisciplinary Approach
Indiana University Press, 9780253338495, 240pp.
Publication Date: February 22, 2001
* Individual store prices may vary.
Description
Governments, Citizens, and Genocide
A Comparative and Interdisciplinary Approach
Alex Alvarez
A comprehensive analysis demonstrating how whole societies come to support the practice of genocide.
Alex Alvarez has produced an exceptionally comprehensive and useful analysis of modern genocide... It] is perhaps the most important interdisciplinary account to appear since Zygmunt Bauman's classic work, Modernity and the Holocaust."
--Stephen Feinstein, Director, Center for Holocaust and Genocide Studies
Alex Alvarez has written a first-rate propaedeutic on the running sore of genocide. The singular merit of the work is its capacity to integrate a diverse literature in a fair-minded way and to take account of genocides in the post-Holocaust environment ranging from Cambodia to Serbia. The work reveals patterns of authoritarian continuities of repression and rule across cultures that merit serious and widespread public concern." --Irving Louis Horowitz, Rutgers University
More people have been killed in 20th-century genocides than in all wars and revolutions in the same period. Recent events in countries such as Rwanda and the former Yugoslavia have drawn attention to the fact that genocide is a pressing contemporary problem, one that has involved the United States in varying negotiating and peace-keeping roles. Genocide is increasingly recognized as a threat to national and international security, as well as a source of tremendous human suffering and social devastation.
Governments, Citizens, and Genocide views the crime of genocide through the lens of social science. It discusses the problem of defining genocide and then examines it from the levels of the state, the organization, and the individual. Alex Alvarez offers both a skillful synthesis of the existing literature on genocide and important new insights developed from the study of criminal behavior. He shows that governmental policies and institutions in genocidal states.
About the Author
Alex Alvarez earned his Ph.D. in Sociology from the University of New Hampshire in 1991 and is currently an Associate Professor in the Department of Criminal Justice at Northern Arizona University. His primary areas of study have focused on minorities, crime, and criminal justice, as well as on collective and interpersonal violence. He has published on Native Americans, Latinos, and African Americans, fear of crime, sentencing, justifiable and criminal homicide, and genocide. He is currently writing a book on patterns of American murder.