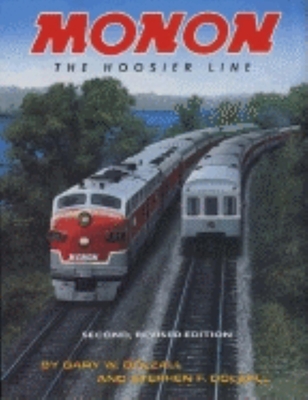 Monon, Revised Second Edition (Hardcover)
The Hoosier Line (Trains and Railroads)
Indiana University Press, 9780253340832, 216pp.
Publication Date: June 6, 2002
* Individual store prices may vary.
Description
After almost a quarter of a century, Monon: The Hoosier Line is back in print in a revised second edition featuring an updated Epilogue, additional photographs, and a new Afterword by Frank Van Bree, President of the Monon Railroad Historical-Technical Society, Inc.
Many railroads served the state, but the Monon was Indiana's own. If you wanted to travel from Delphi to Broad Ripple, or from Gosport to Smithville, you took the Monon. The self-proclaimed "Hoosier Line" celebrated its heritage by naming its flagship passenger train The Hoosier, featuring Indiana cooking in the dining cars and offering homespun service. Monon celebrates the history of this magnificent railroad, from its inception in 1847 as the New Albany & Salem Rail Road, then as the Louisville, New Albany & Chicago, to its merger in 1970 with the L&N, and beyond. The informative text is enhanced by 258 black-and-white illustrations and a special color insert, "The Monon in Color," with 17 additional photographs.
About the Author
Gary W. Dolzall has no difficulty explaining his fascination with the Monon. Living first in Bedford and then in Bloomington, Indiana, he spent his first two decades near Hoosier Line rails. A lifelong student of the railroad ndustry, Gary has written numerous magazine articles and three books in addition to this one: Diesels from Eddystone: The Story of Baldwin Diesel Locomotives (with Stephen Dolzall), and Steel Rails across America and The Spirit of Railroading (with Mike Danneman). Other interests include model railroading, auto racing, and the American Civil War; on the latter subject he has also published a number of magazine articles. An Indiana University graduate, Gary lives with his wife and three children in Connecticut.Stephen F. Dolzall received a Lionel train set at age two which served to establish a lifelong interest in railroading. A family move to Bedford, Indiana, in 1948, afforded Steve first a glimpse at Monon steam and later a ringside seat for the final chapter of the Monon story. In addition, Steve has also co-authored Diesels from Eddystone: The Story of Baldwin Diesel Locomotives and several magazine articles with Gary. Although the Monon remains a favorite, other specialties are the products of all the locomotive builders and the history of railroads in southern Indiana. His other interests include model railroading, the Indianapolis 500, automobile restoration, and automotive history. Steve is a graduate of Indiana University. He and his wife Lana live in Amhurst, Virginia, and have two married children.