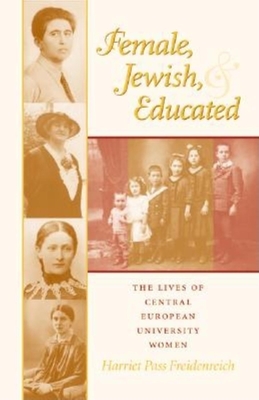 Female, Jewish, and Educated (Hardcover)
The Lives of Central European University Women (Modern Jewish Experience)
Indiana University Press, 9780253340993, 328pp.
Publication Date: June 21, 2002
* Individual store prices may vary.
Description
Female, Jewish, and Educated presents a collective biography of Jewish women who attended universities in Germany or Austria before the Nazi era. To what extent could middle-class Jewish women in the early decades of the 20th century combine family and careers? What impact did anti-Semitism and gender discrimination have in shaping their personal and professional choices? Harriet Freidenreich analyzes the lives of 460 Central European Jewish university women, focusing on their family backgrounds, university experiences, professional careers, and decisions about marriage and children. She evaluates the role of discrimination and anti-Semitism in shaping the careers of academics, physicians, and lawyers in the four decades preceding World War II and assesses the effects of Nazism, the Holocaust, and emigration on the lives of a younger cohort of women. The life stories of the women profiled reveal the courage, character, and resourcefulness with which they confronted challenges still faced by women today.
About the Author
Harriet Freidenreich is a native of Ottawa, Canada. She received her undergraduate education at the University of Toronto and her Ph.D. from Columbia University. As Professor of History at Temple University in Philadelphia, she teaches a wide range of courses in women's history, Jewish history, and European history. She is the author of The Jews of Yugoslavia, Jewish Politics in Vienna, and various articles on Central European Jewish women in the twentieth century.