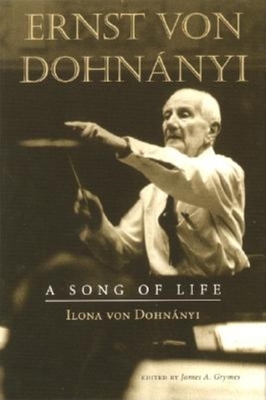 Ernst Von Dohnányi (Hardcover)
A Song of Life
Indiana University Press, 9780253341037, 272pp.
Publication Date: July 12, 2002
* Individual store prices may vary.
Description
... a rare kind of biography and autobiography: a clear and elegant exposition of fact, as well as a humane portrait of a great piano virtuoso, composer, teacher, and democratic soul, as told to and seen through the eyes of one close to him." --Mark Mitchell
Ernst von Dohn nyi (1877-1960) was one of the most highly respected musicians of his time. The young Dohn nyi enjoyed an international prestige that brought him into contact with such 19th-century masters as Johannes Brahms and Eug ne d'Albert. He is remembered for his technique and interpretive skills as a pianist and conductor, as well as for the masterpieces he composed for piano, chamber ensembles, and orchestra. As a teacher and administrator, Dohn nyi was responsible for the training of an entire generation of musicians in Hungary, and for helping to shape the country's musical culture. After World War II, his career foundered when he was falsely accused of being a Nazi sympathizer. In 1953, at the age of 76, Dohn nyi returned to international prominence with a triumphant "re-debut" at Carnegie Hall. Ernst von Dohn nyi: A Song of Life, written from a firsthand perspective by Dohn nyi's widow, is the first full English-language biography of the artist.