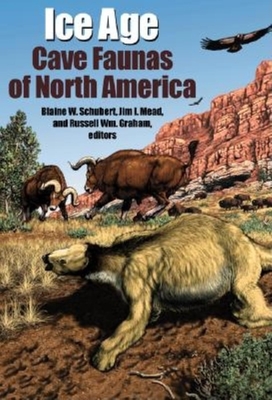 Ice Age Cave Faunas of North America (Life of the Past) (Hardcover)
Indiana University Press, 9780253342683, 320pp.
Publication Date: November 10, 2003
* Individual store prices may vary.
Description
This book gathers the findings of a number of studies on North American cave paleontology. Although not intended to be all-inclusive, Ice Age Cave Faunas of North America contains contributions that range from overviews of the significance of cave fossils to reports about new localities and studies of specific vertebrate groups. These essays describe how cave remains record the evolutionary patterns of organisms and their biogeography, how they can help reconstruct past ecosystems and climatic fluctuations, how they provide an important record of the evolution of modern ecosystems, and even how some of these caves contain traces of human activity. The book's eclectic nature should appeal to students, professional and amateur paleontologists, biologists, geologists, speleologists, and cavers. The contributors are Ticul Alvarez, Joaquin Arroyo-Cabrales, Christopher J. Bell, Larry L. Coats, Jennifer Glennon, Wulf Gose, Frederick Grady, Russell Wm. Graham, Timothy H. Heaton, Carmen J. Jans-Langel, Ernest L. Lundelius, Jr., H. Gregory McDonald, Jim I. Mead, Oscar J. Polaco, Blaine W. Schubert, Holmes A. Semken, Jr., and Alisa J. Winkler.
About the Author
Blaine W. Schubert is research associate in Geology, Department of Environmental Dynamics at the University of Arkansas.Jim I. Mead, is Professor of Geology and Paleonotology and Director of the Quaternary Sciences Program at Northern Arizona University.Russell Wm. Graham is Chief Curator and Head of the Collections and Research Branch, Department of Earth and Space Sciences, Denver Museum of Nature & Science. He has edited three books and published more than 50 professional papers on evolution, biogeography, and extinction of Quaternary mammals.