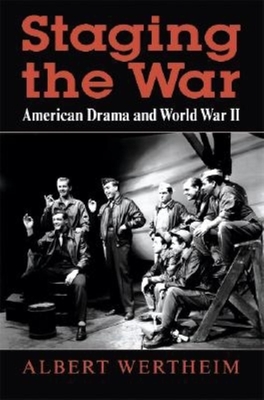 Staging the War (Hardcover)
American Drama and World War II
Indiana University Press, 9780253343109, 352pp.
Publication Date: March 16, 2004
* Individual store prices may vary.
Description
What happened in American drama in the years between the Depression and the conclusion of World War II? How did war make its impact on the theatre? More important, how was drama used during the war years to shape American beliefs and actions? Albert Wertheim's Staging the War brings to light the important role played by the drama during what might arguably be called the most important decade in American history. As much of the country experienced the dislocation of military service and work in war industries, the dramatic arts registered the enormous changes to the boundaries of social classes, ethnicities, and gender roles. In research ranging over more than 150 plays, Wertheim discusses some of the well-known works of the period, including The Time of Your Life, Our Town, Watch on the Rhine, and All My Sons. But he also uncovers little-known and largely unpublished plays for the stage and radio, by such future luminaries as Arthur Miller and Frank Loesser, including those written at the behest of the U.S. government or as U.S.O. musicals. The American son of refugees who escaped the Third Reich in 1937, Wertheim gives life to this vital period in American history.
About the Author
Albert Wertheim (1941-2003) was Professor of English and of Theatre and Drama at Indiana University. His other books include The Dramatic Art of Athol Fugard: From South Africa to the World (IUP, 2000).