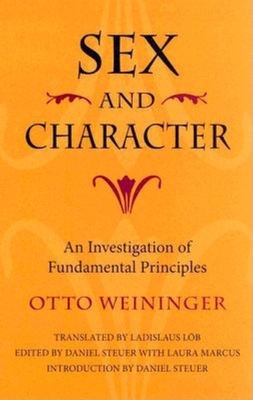 Sex and Character (Hardcover)
An Investigation of Fundamental Principles
Indiana University Press, 9780253344717, 437pp.
Publication Date: April 14, 2005
Other Editions of This Title:
Paperback (10/27/2013)
Paperback (12/28/2004)
Paperback (6/4/2016)
Paperback (11/19/2009)
Hardcover (10/27/2013)
Paperback (10/28/2018)
Hardcover (10/11/2018)
Paperback (10/19/2018)
Hardcover (11/21/2009)
Paperback (10/9/2018)
Hardcover (10/19/2018)
Hardcover (8/11/2015)
Hardcover (8/11/2015)
Paperback (8/21/2017)
* Individual store prices may vary.
Description
Otto Weininger's controversial book Sex and Character, first published in Vienna in 1903, is a prime example of the conflicting discourses central to its time: antisemitism, scientific racism and biologism, misogyny, the cult and crisis of masculinity, psychological introspection versus empiricism, German idealism, the women's movement and the idea of human emancipation, the quest for sexual liberation, and the debates about homosexuality. Combining rational reasoning with irrational outbursts, in the context of today's scholarship, Sex and Character speaks to issues of gender, race, cultural identity, the roots of Nazism, and the intellectual history of modernism and modern European culture. This new translation presents, for the first time, the entire text, including Weininger's extensive appendix with amplifications of the text and bibliographical references, in a reliable English translation, together with a substantial introduction that places the book in its cultural and historical context.