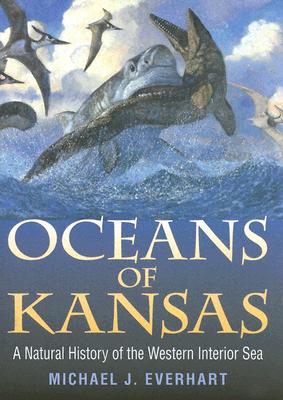 Oceans of Kansas (Hardcover)
A Natural History of the Western Interior Sea
Indiana University Press, 9780253345479, 322pp.
Publication Date: June 29, 2005
* Individual store prices may vary.
Description
The bright midday sun glinted off the calm waters of the Inland Sea and silhouetted the long, sinuous form of a huge mosasaur lying motionless amid the floating tangle of yellow-green seaweed. Twenty years old and more than thirty feet in length, the adult mosasaur was almost full-grown and was much larger than any of the fish or sharks that lived in the shallow seaway. A swift and powerful swimmer over short distances, the mosasaur used surprise and the thrust of his muscular tail to outrun his prey with a short burst of speed." --from Chapter One
Although Kansas is now high and dry, at one time the state, like most of the Midwest, was under water. Until the land finally rose above sea level during the final years of the Late Cretaceous, the area was covered by a succession of oceans whose geologic record is preserved in the sedimentary rock that covers the Great Plains.
Oceans of Kansas tells the story of the five million years when giant sharks, marine reptiles called mosasaurs, pteranodons, and birds with teeth flourished in and around this shallow sea. The abundant and well-preserved remains of these prehistoric animals were the source of great excitement in the scientific community of the day when they were first discovered in the 1860s. Two of the best-known fossil hunters of the time, E. D. Cope and O. C. Marsh, competed vigorously to recover the best specimens. During the past 130 years, thousands have been collected and sent to museums around the world.
Michael J. Everhart tells the fascinating story of their discovery, re-creates the animals and the world in which they lived, and presents the fruits of the latest research into the natural history of America's ancient inland sea.
About the Author
Michael J. Everhart, Adjunct Curator of Paleontology at the Sternberg Museum of Natural History in Hays, Kansas, is an expert on the Late Cretaceous of western Kansas. He is the creator of the award-winning "Oceans of Kansas" paleontology website at www.oceansofkansas.com. He lives in Derby, Kansas.
or
Not Currently Available for Direct Purchase